Non-Metal Fillings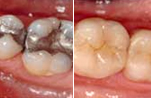 With the amazing advancements that have been made in modern dentistry, metal amalgam fillings are now obsolete. Today's tooth-colored composites are safer, stronger, more attractive and more enduring alternatives to metal.
Metals can not only age your appearance, but they can expand and contract when exposed to heat and cold. This movement weakens the tooth wall, leading to fractures and allowing bacteria to enter and cause decay. Composite white fillings, made of composite resin, are used to restore teeth that have small cavities. They are called white fillings because of the natural, tooth color of the resin.
Composite fillings are prepared and restored in the dental office and completed in only one visit. Composites are more conservative restorations than metal, requiring less drilling and loss of healthy tooth structure when repairing a tooth. More importantly, composites are safer for the teeth they're meant to protect.
$49 special includes new patient exam and complete series of dental x-rays.
New patients only. Insurance will be billed if applicable.
Check out
our Smile
Gallery
Why Choose Us
Patient Financing Available
Same Day Appointments
Pain Free Dentistry
Digital X-rays
In-office Teeth Whitening
Mercury-Free Fillings
Invisalign Premier Provider
Luxurious State of the Art Facilities
TV's in Treatment Room
Free Wifi while you Wait