Full Mouth Restoration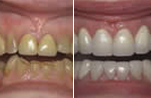 Full mouth reconstruction, full mouth rehabilitation and full mouth restoration are terms often used interchangeably to describe the process of rebuilding or simultaneously restoring all of the teeth in both the upper and lower jaws.
Full mouth reconstruction typically involves a general or restorative dentist (performing procedures like crowns, bridges and veneers), and can incorporate dental specialists like periodontists (specializing in the gums), oral surgeons, orthodontists (specializing in tooth movements and positions) and endodontists (specializing in the tooth pulp).
The need for full mouth reconstruction may result from:
Teeth that have been lost due to decay or trauma.
Teeth that have been injured or fractured.
Teeth that have become severely worn as a result of long-term acid erosion (foods, beverages, acid reflux) or tooth grinding.
Ongoing complaints of jaw, muscle and headache pain requiring adjustments to the bite (occlusion).
Consider full mouth reconstruction as your solution for looking younger, feeling better and regaining confidence in yourself!
$49 special includes new patient exam and complete series of dental x-rays.
New patients only. Insurance will be billed if applicable.
Check out
our Smile
Gallery
Why Choose Us
Patient Financing Available
Same Day Appointments
Pain Free Dentistry
Digital X-rays
In-office Teeth Whitening
Mercury-Free Fillings
Invisalign Premier Provider
Luxurious State of the Art Facilities
TV's in Treatment Room
Free Wifi while you Wait